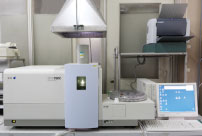 ICP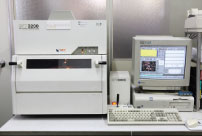 X-Ray Fluorescence Coating Thickness Measurement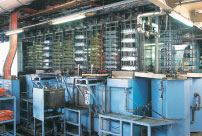 [Wet type] Fully-Automatic Plating Line
This line is thoroughly designed with various patents related to a plating machines, boasting rationalized specification of fully automatic feature and stable quality.

Zinc Plating
Various composition metal
Nickel/Chrome plating
Hard chrome plating
Tin plating
Precious metal plating
Zirconium process
and more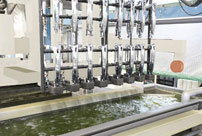 Plastic plating

Our latest facilities and INOUE's unique technology to establish the stable quality.
With the latest facilities and our unique, sophisticated self-developed technology, INOUE stably produces high quality products.
Main Facilities
Zinc Rack Plating Device - 4 units
Zinc Barrel Vibrating Plating Device - 3 units
Zinc Mixed Metal (metal, nickel, tin) Plating Device - 1 unit
Nickel/Chrome Plating Device - 1 unit
Hard Chrome Plating Device - 1 unit (self-developed device)
Hoop Plating Line (gold, silver, copper, tin) - 4 units (self-developed line)
Continuous production line of pressing + plating + forming + assembly + inspection (self-developed line) - 2 units
Buffering Device - 3 units (self-developed device)
Dehydrogenase Process Device - 5 units
Waste Water Treatment System - 2 units
Plastic Molding Machine - 50 units
Resin Material Automatic Mixing/Delivery System - 2 units
Resin Material Dryer - 5 units
Press Machine (30t to 150t) - 10 units
CAD/CAM - 2 units
Wire Electrical Discharge Machine - 3 units
Electrical Discharge Machine - 3 units
Small Hole Drilling Electric Discharge Machine - 1 unit
NC Flice units
Zirconium Processing Line (with AI) (self-developed line)
Trivalent Chromate Conversion Processing Line (with AI) (self-developed line)
Ornament Plating Line for PC/ABS Plastic Resin- 1 unit
Molybdenum Coating Line - 1 unit (self-developed line)
Adhesion & Forming Line - 3 units (self-developed line)
Film devices
Ion Plating Device - 1 unit
Vapor Deposition Device - 1 unit
Testing devices
X-Ray Fluorescence Coating Thickness Measurement - 1 unit
ICP - 1 unit
Microscope (x5000) - 1 unit
Inverted Metallurgical Microscope - 1 unit
Toolmaker's Microscope- 1 unit
Coordinate Measuring Machine - 1 unit
Micro-Vickers Hardness Tester - 2 units
Projector - 1 unit
SEM - 1 unit
Residue Foreign Material Measuring Equipment - 1 unit
Spectro-Photometer - 1 unit
Portable Tester (testing for tension, peeling, shearing, bending, etc) - 1 unit
Thermal Shock Tester - 1 unit
Neutral Salt Spray Tester
CASS Tester
Contracer - 2 units
Micro hardening Measuring Machine
β-ray noncontact heterogeneity plating, simultaneous plating thickness measuring machine - 3 units
(self-developed device)
Image Processing Tester - 30 units (self-developed device)
Conduction Tester - 3 units (self-developed device)