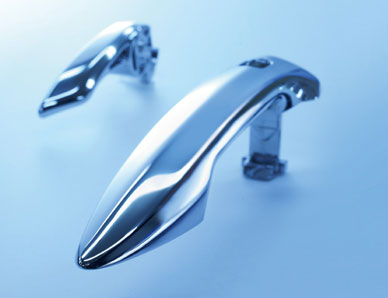 Advancing from surface covering technology to surface treatment.
If you are not familiar with "Surface Treatment (surface process)", everyone knows "plating". It is a technology closely connected with people's everyday life. The technique of surface treatment is to process the surface of materials to change material characteristics in addition to apply new functionality. Since we started the business in plating for ornamentation and corrosion protection when established in 1947, Inoue has persisted in the concept of "reforming and alteration" of metal materials.
We are here to meet the needs of sophisticated surface treatment.
When zinc plating was the mainstream trend, Inoue engaged mainly in automotive parts by using zinc plating machines and achieved economic growth as flourishing of automotive industry. As the trend changed from nickel plating to chrome plating, and advanced into functional plating of powder plating and dry plating, our technology has steadily advanced further to meet the needs. As an pioneer of plating, Inoue employed number of ideas to meet the needs of sophisticated technology, we have lead us to become the today's proposal-based company.
Technical capabilities for acquiring a number of patents,
solid analytical abilities for stable quality.
Inoue generated stable achievement in the research of plating technology started in 1973. Our development expanded to acquiring a number of patents such as inverted plating method in 1980, our unique plating system in 1981 and high-speed plating in 1983, and in 1993, we obtained a patent in establishing surface treatment process of special hexahedral minerals. We also use a highly precision plating fluid automatic analytical system to realize detailed quality control.
Our technology of surface treatment makes a full use of applied chemistry technology.
As one of the surface treatment technologies, the current plating technique has been broadly used in new fields such as electronics, new material and biology. To respond to the recent growing needs of functional plating, Inoue has deployed sophisticated, unique technology developed using applied chemistry, in addition to the traditional ornament and anti-corrosive plating. Furthermore, we are putting around-the-clock efforts to develop advanced technologies such as plating difficult materials and environment - friendly plating.