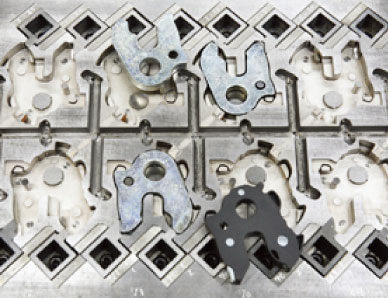 We precisely develop our own molding and press processing technologies.
It is INOUE's strength that we are capable of producing molds for plastic molding and press processing. We entirely do the development, design to production. We are also capable of pressing soft materials and thick materials which are known to be difficult to press. We can offer sufficient production ability to meet our clients' needs at any levels.
Trusted production lies in our ability to develop sophisticated molding.
We at INOUE utilizes the CAD/CAM system and precision machine tools to produce our unique technology of insert molding and press molding. The true power of INOUE lies in our ability to produce "reliable molds" as our precious asset to realize our further development.
CAD system

We make our own original molds by the consistent operation from development, design to production using the CAD/CAM system. We also design and produce our precision jigs and tools.




Molding factory

We make our own molds to improve and accumulate our technology.