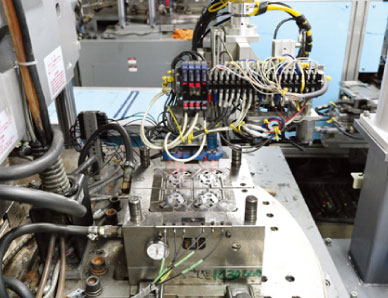 Composite technology starts from our self-developed production technology.
INOUE has engaged not only in plating technology but also in development and research of extensive applied technology. Since we implemented plastic molding technology in 1979, we have independently realized the technique of insert molding of plated products and plastic resin called silencer. This was the beginning of composite technology.
Using our self-developed software and hardware,
we have realized excellent cost performance.
The philosophy of composite and multiple technologies that simultaneously carry out a variety of processing is also utilized in the technology of molding. The INOUE's unique insert molding interfaced molding to product inspection automatically and established the system without producing defective products. The strength of our technology lies in our ability to produce our own system.
Door handle molding system

After automatic molding, products are treated with ornament nickel and chrome plating to send to shipment.




Insert molding system 1

By utilizing self-developed feeder and inspection equipment, we have automated a line of production from insert molding, inspection to palletizing.