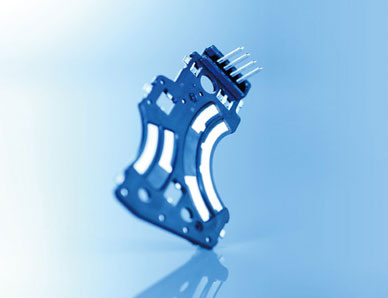 We fuse our own technologies. This is INOUE's composite technology.
We at INOUE utilizes the composite technology at each department of surface treatment, plastic molding, molding and industrial engineering. It means composite and multiple technology that sophisticatedly optimizes a wide range of technologies. By fusing our own technologies, we utilize our distinct know-how to realize high quality and productivity.
We have established an excellent, continuous production system by fusing our own technologies.
INOUE establishes an extremely efficient, continuous production system from design through manufacture by organically fusing our own technologies. Our automatic production and inspection devices are made by our engineers. We have successfully developed a sophisticated unmanned system that enables high quality and low cost as well as to realize high competitiveness. We have acquired various patents for our self-developed automated inspection devices, including measuring machines for appearance, dimensions and height, a coating thickness measurement and insulation measurement. We also make our own production lines from design through manufacture.
Production is a part of human resource cultivation.
At INOUE, our young engineers freely exchange their own opinions from their technical standpoint beyond each department of plating, molding and production engineering. Many of our excellent engineers have successfully outgrown by generating new ideas and technologies. Our continuous production system is the fruits of their superior ability.
New vision of using composite technology.
Our goal is to produce future-oriented high functional products that employs excellent ability individually. The ongoing product development of a super water-resistant product that meet the needs is one of the new development. We are deepening our technology to further advancement of composite technology, and it is our dream to compose and realize them through innovative ideas.